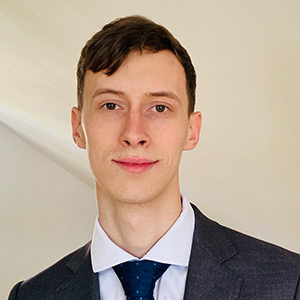 Vitalii Zhuhai, Systems Engineer and Humanitarian Response Specialist, for the Committee for Open Democracy.
Vitalii is the Committee for Open Democracy's Humanitarian Response Specialist, working full-time to helpukraine22.org.
A Ph.D. student at the Taras Shevchenko National University of Kyiv with German as the primary language and English as a secondary language, with one year of education abroad in Arlington, Virginia (USA), and half a year in Poland and Germany each, Vitalii has extensive multi-cultural, translating, and interpreting experience. He also has a background in the public sector, including his work with the Journalist Support Center NGO, environmental 'Mama-86' NGO in Ukraine, The 'Active Ukrainians in Europe' NGO in Sweden, and the Erasmus ESN network in Germany.
He successfully accredited and managed International Election Observation missions in 2020 and 2021 in Ukraine and was responsible for logistics and administrative support. In addition, Vitalii worked on a Ukrainian Youth PEA Analysis for IREX, involving multiple interviews across the country with data collection and reporting, and a similar project for an American Business Consulting company, The Cloudburst Group.
Apart from his expertise in linguistics and translation, Vitalii brings leadership, social media monitoring, animation, and logistics skills to the team.
Born and raised in Western Ukraine, Vitalii is a true patriot of his country and a representative of active youth, putting his skills and ideas into developing democracy, engagement, and civil society. You can reach
Vitalii at vitaliy@codukraine.org.